Murals are Sherry's specialty. Murals inside and out, trompe l'oeil to simplistic monotypes, Sherry has done it all. Sherry has painted murals internationally. She has the ability to paint your murals on site or you can have them painted on canvas and shipped to you.
All murals are custom designed to order using only the best of materials for the murals application. Sherry takes pride in her murals and does everything she can to ensure that they will be able to stand the test of time.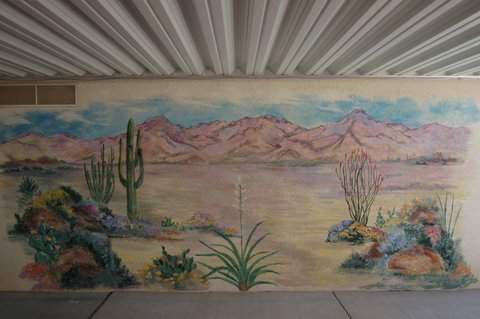 Through many years of experience, she has gotten the art of painting murals down to a science. You name it, she has painted it. She has painted murals on everything imaginable … not just your normal walls. Her work has found its way onto everything from garage doors, building foundations, boats, chapels, wooden fences anywhere the surface is still, Sherry can paint it! Her friends and family joke "not to sit still too long or you might just end up painted".
We hope that you enjoy the works shown below. Shown are just a few examples of what Sherry can do. Each image is expandable and will take you to more detailed photos of each mural.
Please feel free to contact us if you have any questions or if we can be of service.