House and garden tours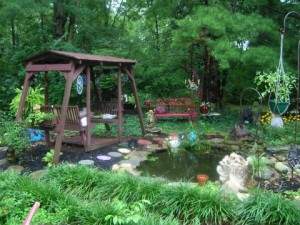 Sherry's garden and house are an eclectic morning tour through her gardens, accompanied by humorous stories. The garden tour includes a relaxing twenty five foot steam with water falls into a small Koi pond. She calls this her "Rocky Mountain stream." The house tour includes her inside murals, and some refer to the house as "the house of murals." There is also a small greenhouse.
Coffee, tea and ice water are provided and visitors are welcome to bring snacks for their group. Cost $150.00
Garden talks
Sherry will come and speak at meetings of civic or social groups, clubs, garden groups, seniors, etc. The talks are about art in the garden or painted gardens, illustrated with photos or power point presentation. The talks cover painted gardens inside the house and outside in the yard. There is a display of painted garden objects which may be purchased. Cost: $85.00 There is an extra fee for travel outside the Cincinnati area.
Workshops
Workshops will include painted rocks. Each participant will paint a rock to become an animal, insect or another object of their choice. There are usually lots of lady bugs, raccoons. kittens and bunnies. This workshop may be in conjunction with a group talk.
Cost: $25.00 per person.
10 students minimum.