The Masters Touch
by Sherry Masters
Reviewed by Decordelights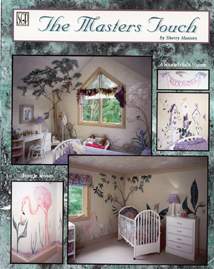 Now this is a very interesting book. The projects in here are walls, fences and sheds. If you ever were curious about painting murals, this is an excellent book to help get you started.
This book has 19 color pictures. They are either close-ups or step-by-step photos.
I found the pictures to be very helpful in understanding how to paint these designs.
Sherry will take you along on how to prepare surfaces such as concrete, brick, wood, fences, drywall, paneling. She will explain how to enlarge and transfer the patterns. She will also tell you what paints to use and the right kind of brushes.
Painted Garden is a wonderful mural on a wooden fence. There is a variety of plants and potted plants. Be on the look out for a bunny and some butterflies too. You will get tremendous OOOHHHHS and AHHHHS from your guests.
Garden Shed is another terrific outdoor mural. Now you can have a horse of your very own – this one you don't have to feed or clean up after. This mural features the horse of course, a sunning cat, sunflowers, pitchfork, strawhat and great trompe l'oeil gates and shutters.
Alexandra's Room is perfect for little girls. There are trees, birdhouses, a banner for her name, birds, bunnies, and a sleeping fawn. If you paint one for one girl, you will most likely have to paint more for the other girls in your family.
Jungle Garden is full of flamingos, palms, parrots and other exotic plants. Now you can sleep in the jungle without the big bugs and mosquitoes. If you listen carefully, you will be able to hear the noises of the jungle. What a fun book this is! It will inspire you to paint walls and paint designs larger than yourself. Get this book today, it is really a good one.
You can order this book from one of the following locations:
Crafty Traditions
Contact Sherry to Purchase